Senator Jesse Salomon
32nd Legislative District
D-Shoreline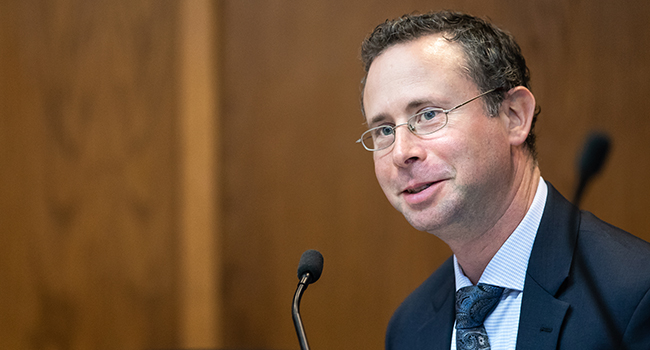 Elected to the Washington State Senate in 2018, Senator Jesse Salomon has demonstrated leadership, energy and compassion as he represents Washington's 32nd Legislative District, which includes Shoreline, Woodway, Edmonds, Lynnwood, Mountlake Terrace, and Northwest Seattle.
Through his advocacy and legislative work, Jesse has become known as a champion for the environment, youth and children, and campaign finance reform. This year he will introduce bills on police accountability, boosting the salmon and orca populations, fighting the automation of family wage jobs, supporting essential workers to get personal protection equipment, creating an innovative wilderness therapy program for people with behavioral health needs, and making sure people don't lose their drivers license because of inability to pay fines.
Jesse serves on three Senate committees. He is the Vice Chair of Agriculture, Water, Natural Resources & Parks, and serves on Law & Justice as well as Housing & Local Government.
In the 2019 and 2020 legislative sessions, Jesse has prime-sponsored and passed legislation related to:
Closing the educational gender opportunity gap
Fighting hate and bias-based crimes
Preventing foreign interference in our elections
Banning fracking for natural gas
Protecting salmon habitat
Jesse also secured funding for:
Local parks
Edmonds Marsh
$1.4 million to assist pregnant and new mothers in drug and alcohol recovery to unite them with their children and to prevent those children from having to enter the foster care system.
Money for salmon hatcheries on the Green and Cowlitz Rivers
During the 2020 legislative session, Jesse helped pass a bipartisan Coronavirus response bill that authorized significantly more money for public health efforts, testing and health care related to the outbreak.
Prior to being elected to the Senate, Jesse served for seven years on the Shoreline City Council including one year as deputy mayor. This city government experience has given him the background to represent the cities of Edmonds, Lynnwood, Mountlake Terrace, Northwest Seattle, Shoreline, and Woodway, which make up his district.
In addition to his work as a Senator, Jesse works part-time as a public defender. His experience representing thousands of clients, conducting the defense in numerous jury trials, working in local jails and at the start of his legal career serving as a prosecutor, has given him a unique set of experiences that informs his work in the legislature on crime and law.
Jesse serves on these state-wide boards and task forces::
Marine Resources Advisory Committee to combat the effects of climate change and ocean acidification
Hate Crimes Task Force to strengthen our approach to reducing racism, homophobia, and related bias crimes and incidents.
Previously, Jesse has served in many volunteer capacities, including as a:
Member of King County's Best Start for Kids Advisory Board
Planning Commissioner
Board member of the Ridgecrest Neighborhood Association
Jesse graduated from the University of Washington School of Law and Western Washington University (Dean's List). An avid hiker, fisher, snowboarder, and boater, Jesse loves to spend spare time in the great outdoors of the Pacific Northwest.
Jesse lives with his family in his favorite city, Shoreline!
[vc_toptitle title="TVW: Legislator Profiles"]